TOP DGUSA STARS SIGN CONTRACT EXTENSIONS AND MORE NEWS LEADING INTO WWNLIVE EVENTS IN NEW ORLEANS
By
Mike Johnson
on 2014-03-27 13:03:40
Dragon Gate USA has signed contract extensions with DGUSA Open the Freedom Gate champion Johnny Gargano and Ricochet. I haven't been able to confirm the length of the extensions. Their title bout on 4/5 actually culminates a year of angles as it was last year at Mania that Ricochet first challenged Gargano to a title match.
If you are looking to go to any of the WWNLive.com Experience events in New Orleans, most of the reserved seating is now sold out. To order tickets, click here.
We are told there will be some gimmick matches added to the Wrestling Odyssey event to attempt to make it a more unique attraction with the glut of events Wrestlemania week.
There is actually a Crawfish festival across the street from McAlister Auditorium at Tulane University, where the WWNLive events are being held on Saturday 4/5, so that will add to the New Orleans spirit of the events.
Gabe Sapolsky was profiled in the new issue of Temple News, his alma matter's newspaper.
EVOLVE 19 (EVOLVE championship tournament) and DGUSA Open The Ultimate Gate with Johnny Gargano vs. Shingo on top will be out on DVD by New Orleans.
To pre-order the EVOLVE, DGUSA, Wrestling Odyssey, Kaiju Big Battel and SHIMMER iPPV events, click the graphic below: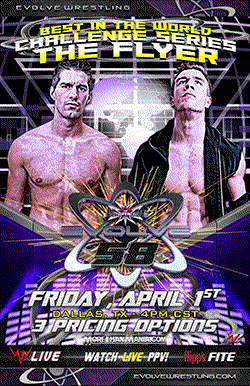 If you enjoy PWInsider.com you can check out the AD-FREE PWInsider Elite section, which features exclusive audio updates, news, our critically acclaimed podcasts, interviews and more by clicking here!