FUTURE OF BUCKS AND HERO IN DGUSA AND MORE NEWS
By
Mike Johnson
on 2013-11-21 01:31:10
We've gotten a lot of questions about whether The Young Bucks were leaving Dragon Gate USA since they dropped the DGUSA Tag straps right after winning the IWGP Junior Heavyweight Tag Team championship. While it's easy to understand why one might think that, it's not the situation at all. The plan all along had been to have the Bucks drop the belts to The Bravados as a way to make The Bravados stronger. The reality is that The Bucks don't need the belts since they are so over.
As we noted on Sunday, DGUSA did a double-turn with the Bravados and The Bucks. That was actually booked on the fly during the event in Brooklyn after The Bravados' first match as champs. The original segment had the Bucks laying out the Bravados and remaining heels but Gabe Sapolsky switched it out after seeing the reaction the Bravados got winning the belts and then the next day in Brooklyn, realizing he could make some heels and that at this point, no one is going to boo The Bucks.
The Bravados have signed DGUSA contracts.
The Young Bucks are absolutely not leaving and are figured into all future plans. They're working the Wrestlemania weekend shows.
Chris Hero will be back down the line as well. DGUSA saw a huge spike in sales for the Brooklyn event once Hero was announced and they were thrilled to have him.
The Brooklyn show with Hero vs. Johnny Gargano, which was off the charts great, is now available for VOD replays by clicking the link below. The Queens event is being slightly re-edited before being uploaded: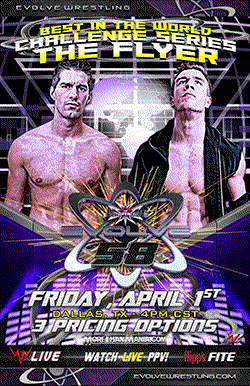 The Queens crowd over the weekend was down slightly. I know a LOT of fans that usually go that instead stayed home to watch the UFC PPV, so that hurt DGUSA for sure.
There's been a lot of talk about how great Rich Swann's work has become. Gabe Sapolsky wrote a piece about Swann at this link.
In a surprising bit of news, Roderick Strong was announced for the December FIP dates. Since it's a sister promotion to DGUSA, I asked if this meant he might be working here and was told that right now, there are no plans.
There will be some January dates in Florida before a 2/22 return to Queens and a 2/23 return to Brooklyn.
DGUSA was very happy with the team of Caleb Konley and Andrew Everett and they will be a regular team going forward. Konley's work was great this past weekend.
There will be a massive Black Friday sale with some new DVD titles released.
Earl Cooter was great in his role of getting completely obliterated against Jon Davis, by the way.
If you enjoy PWInsider.com you can check out the AD-FREE PWInsider Elite section, which features exclusive audio updates, news, our critically acclaimed podcasts, interviews and more, right now for THREE DAYS free by clicking here!