LOADED DGUSA RETURN TO QUEENS ANNOUNCED AND MORE DRAGON GATE USA NEWS
By
Mike Johnson
on 2013-11-06 10:19:15
Dragon Gate USA announced details on their Saturday 11/16 return to Queens, NY at the Queensborough Elks Lodge, which be the promotion's Fearless 2013 iPPV. The lineup is really strong with Dragon Gate's Genki Horigouchi bringing the Open the Brave title Stateside for a rare title defense, facing Rich Swann. From top to bottom, this is an extremely strong show:
*DGUSA Open The Freedom Gate champion Johnny Gargano vs. Jimmy Susumu
*DGUSA Open The United Gate champions The Young Bucks vs. The Bravado Brothers
*DG Open the Brave champion Genki Horiguchi vs. Rich Swann.
*EVOLVE champion AR Fox vs. Shane Strickland vs. Fire Ant vs. Andrew Everett
*Masaaki Mochizuki vs. Anthony Nese
*Trent Baretta vs. Chuck Taylor.
*Biff Busick vs. Ricochet.
*Jon Davis vs. the debuting Steven Walters.
*Mr. Touchdown vs. Caleb Konley.
There will be a seminar and tryout before the show for independent wrestlers led by Mochizuki and Horiguchi. For more on that, visit http://dgusa.tv/store/seminartryouts.
The promotion is rushing out as many of their DVD releases as they can to prepare for the holiday shopping season.
They are also feverishly working to get themselves set up for the WWNLive Roku channel, waiting for the official launch to be approved.
As previously noted, the company will also run Sunday 11/17 Brooklyn at the Lyceum featuring:
*DGUSA champion Johnny Gargano vs. Masaaki Mochizuki
*Ricochet vs. Anthony Nese
For ticket information, visit www.DGUSA.tv.
The shows will be available via iPPV and can be pre-ordered by clicking the link below: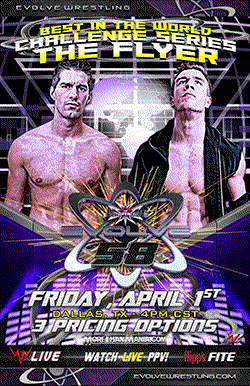 If you enjoy PWInsider.com you can check out the AD-FREE PWInsider Elite section, which features exclusive audio updates, news, our critically acclaimed podcasts, interviews and more, right now for THREE DAYS free by clicking here!