TRENT BARETTA AND MORE: FULL IMPACT PRO RETURNING TO iPPV TONIGHT
By
Mike Johnson
on 2013-10-11 09:07:00
Full Impact Pro will return to iPPV from Tampa, FL at the Orpheum tonight, featuring:
FIP champion Trent Baretta vs. Jon Davis.
*FIP Tag Team champions Lance & Harlem Bravado w/ Larry Dallas & Trina Michaels vs. Dos Ben Dejos of Jay Rios & Eddie Cruz w/ Mia Yim & Leva.
FIP Florida Heritage Champion Gran Akuma vs. Slyk Wagner Brown
*Evening Gown Match - Jessicka Havok vs. Maxwell Chicago
*Fatal Four Way - Lince Dorado vs. Rich Swann vs. Pinkie Sanchez vs. Jonny Vandal w/ Larry Dallas & Trina Michaels
*Chasyn Rance vs. Mr. Touchdown
*The NOW (Vik Dalishus & Hale Collins) w/ Larry Dallas & Trina Michaels vs. Eddie Graves & Teddy Stigma
*Kenneth Cameron vs. Saso Rivera
To order the iPPV, click the graphic below: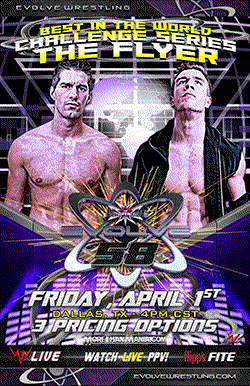 If you enjoy PWInsider.com you can check out the AD-FREE PWInsider Elite section, which features exclusive audio updates, news, our critically acclaimed podcasts, interviews and more, right now for THREE DAYS free by clicking here!