UNDER SEVEN LEVELS OF HATE SITS ONE INTERESTING DOCUMENTARY
By
Mike Johnson
on 2013-09-13 16:44:16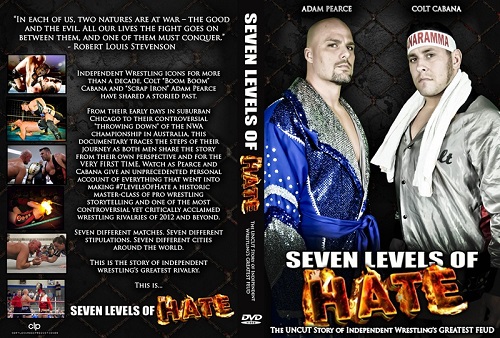 SEVEN LEVELS OF HATE FORGE ONE SOLID FILM
The new documentary "Seven Levels of Hate", produced and directed by former NWA champion Adam Pearce looks at Pearce's feud with Colt Cabana for the NWA title and their "Seven Levels of Hate" series which featured the duo taking their feud, along with different stipulation matches, to different promoters across the United States and Canada.
That in itself is an interesting topic for inside discussion and stories on what I truly felt at the time was a most interesting concept that saw two wrestlers team up to create something special and sell it to different promoters, as opposed to promoters creating something and directing the performers as to what they wanted. It was taking pro wrestling and returning it to its bare essence as a carnival road show with all its vaudevillian origins laid out for the world to see.
However, as I was once told by a very wise EMT as I laid in an ambulance after nearly dying in a car wreck - "Life is the sh** that happens to you that you aren't prepared for." - and in many ways, that's also the story of this film. In many ways, the theme of the film is one of frustration- the frustration of the performers who only want to do what works best for the fans they are trying to entertain, only to see the promoters and red tape control and pollute the creative process. When that happens, things become forced, momentum is lost and oftentimes, the promoter is then trying to hit the reset button to regain what is lost. Of course, that never happens, but they try to fix the mistakes, almost as often as they continue to make them.
That is certainly the case with the National Wrestling Alliance and Colt Cabana. As the film explains, Championship Wrestling from Hollywood builds to Cabana winning the title from Pearce, which was a smart marketing move given how much Cabana is liked as a comedic yet solid in the ring, everyman pro wrestler. That is never underscored more than a moment in the film where it's noted the NWA had about 500 Twitter followers at the time, while Cabana had in the area of 500,000. Yet, the NWA brass decide out of nowhere to pull the belt off Cabana which is recited by Cabana and Pearce in the film in such a way that would be mind-shattering sad if it wasn't such a stupid decision.
After a series of equally stupid events, Pearce and Cabana come up with the Seven Levels of Hate, with the idea being that they will build a great rivalry with a great series of matches designed to do what the NWA title was supposed to do in its heyday, make the idea of the champion coming to town mean something above and beyond what the local promoter could already do on his own. The film goes into each stop of the tour, with promoters and local personalities who works for the different host promotions giving insight into the matches.
The film then veers off into another direction again when Bruce Tharpe and his constitutes in Texas decide to wrest control of the NWA away from the existing board members via a lawsuit that started over alleged insurance fraud but somehow ended up with the Plaintiffs instead controlling the NWA name, brand and champions (that entire mess should be a documentary on it's own, but that's a different story). which of course means that promises made to Cabana are broken, plans set into motion by the duo now have to be changed and at the end of the day, the pair have to instead publically distance themselves from the very thing they were trying to celebrate, improve and raise the awareness of - the NWA World title.
So, all of that is a lot of ground, emotionally and factually, to try and cover in one film and Pearce does an admirable job as a first-time director trying to capture it all. "Seven Levels", which clocks in at two hours, 12 minutes, is enjoyable, especially if you are a fan of Cabana and Pearce, who get the lion's share of the screen time and attention (as one might expect). it's obvious that in a lot of ways that Pearce saw the film as both the love letter to the feud but also his career as it appears to be something that he's trying to leave behind as his legacy for the business.
Beyond Pearce and Cabana, a number of other personalities are shown and interviewed. The most entertaining of the lot are Dave Marquez of Championship Wrestling Hollywood, Chris Gough of Metro Pro Wrestling and Sheldon Goldberg of NECW. Marquez, with his embedded knowledge of all things NWA is a good voice for the strange and at times, inept decision making made within the promotion and does a great, blunt job of breaking down how much ground the NWA lost with those decisions. Gough, a former WWE Creative Team member explains what the match and the pair brought to the table that was unique while Goldberg, as always, provides great historical insight as well as a promoter's breakdown of why he would bring the pair in to accentuate his own product.
Where the film is somewhat weak in, is that the NWA is pretty much the antagonist, but that antagonist is very rarely spoken for. Fred Richards and Bob Trobich (not formerly of the NWA) give some insight but their appearances are few and far between. The film makes it clear that the Tharpe regime didn't want to discuss anything on camera, only giving a short statement that is seen towards the end of the film - and one that reads more like PR jargon then anything of merit. You get a good sense of the frustration the principals have and why but a great documentary also needs to let you see the other side of the picture, which we only get in glancing moments of the film.
I also felt that the film missed out on a chance to really explore the concept of Cabana and Pearce in a "Let's put on a show and take it on the road" sort of way, following their creation of something and how it was pitched to promoters, which is vastly different from how 99% of the wrestling world works on the independent level. They could have used some of the media types that pop up for that, but, there's only so much time and clocking in at over 2 hours, adding that could have been a lot for even the most hardcore fan to process - even as solid as the film truly is - and a shorter film may have made for a tighter story, but it also would have required losing some of the promos and moments that made the feud the highlight of the CWH TV series.
Still, the voice of a film is often it's director and when that Director is also the focus, you are going to get their point of view and their vision of what right and wrong is. Pearce comes off as a strong advocate for himself and the feud, as one who believes in himself should be. Cabana is very good with his running commentary looking at what they were trying to build and the disgust he felt watching others knock down the block towers they so lovingly devised.
The 2 DVD set comes with all of the Cabana-Pearce matches, which are a great joy to watch unfold over time and lead to a truly emotional farewell for the duo as they exorcize their anger and resentment towards the NWA at the same time they kiss goodbye the very reason they started the undertaking they were on to begin with. It's pro wrestling, but it's also a very real, emotional moment that's sitting under those Seven Levels of Hate. It's an excellent journey to follow and for independent wrestling, it's the closest thing we'll ever see to a WWE style documentary on a subject. For that alone as well as a surprisingly wonderful moment with the late Percy Pringle, the film is worth watching.
Recommended especially for fans of independent wrestling and obviously, fans of Cabana and Pearce, Seven Levels of Hate can be ordered at http://www.sevenlevelsofhate.com/.
SEVEN LEVELS OF HATE will have it's world premiere screening in New York City as part of the First Annual Rocks Off Pro Wrestling Film Festival. For more on the Festival, visit www.RocksOff.com/FilmFest.
If you enjoy PWInsider.com you can check out the AD-FREE PWInsider Elite section, which features exclusive audio updates, news, our critically acclaimed podcasts, interviews and more, right now for THREE DAYS free by clicking here!