JERICHO'S NEW SHOW, NYWC PSYCHO CIRCUS UPDATE, MARIA iPPV AND MORE
By
Mike Johnson
on 2013-02-22 16:04:33
I watched the first episode of the Robot Combat League and it was a lot of fun. Chris Jericho brought a lot of energy and enthusiasm to the series and was good in his job as host. There's a nice mix of reality TV and some robot mayhem. The fights are apparently legit. I don't know what the long term potential of this can be, but the first episode was entertaining enough that I plan to DVR the series. If you liked "Real Steel" with Hugh Jackman, you should enjoy this one.
Our friends at Highspots.com are presenting two iPPVs this weekend. On Saturday evening, they will be broadcasting a live event from Premier Wrestling Xperience, which is a great promotion in NC that features a great mix of talents.
On Sunday at 2 PM Eastern, they will be broadcasting a live shoot interview with former WWE Diva Maria Kanellis.
The NYWC Psycho Circus tomorrow in Long Island, NY is pretty much sold out. They reconfigured one side of the venue in order to add another two dozen general admission tickets, so if you intend to go, get there early. The promotion already sent out messages that they will not be allowing anyone to be comped into the event due to the lack of space left. We will have live, ongoing coverage of the show tomorrow evening.
We will also have live, ongoing coverage of SHINE this evening from Florida. You can order the show by clicking below: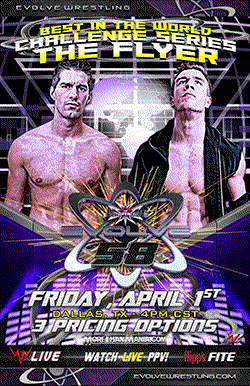 If you enjoy PWInsider.com you can check out the AD-FREE PWInsider Elite section, which features exclusive audio updates, news, our critically acclaimed podcasts, interviews and more, right now for THREE DAYS free by clicking here!