SHINE BACK ON iPPV TONIGHT WITH RAIN VS. KONG AND MORE - COMPLETE DETAILS & HOW YOU CAN ORDER
By
Mike Johnson
on 2013-02-22 09:20:00
SHINE returns to PPV tomorrow. You can the show by clicking the graphic below: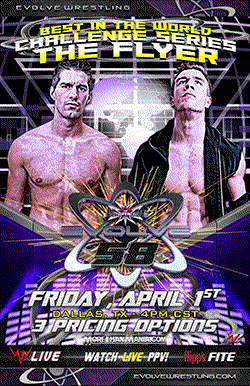 Here are the official details and lineup for tomorrow's iPPV:
SHINE Wrestling presents
SHINE 7
Friday, February 22, 2013
9 PM Bell Time
The Orpheum
1915 E. 7th Avenue
Ybor City, FL
Watch it Live on WWNLive.com
Already Signed -
Daffney - Live Event Hostess
The Main Event
Rain vs. Amazing Kong
Last Woman Standing Match
Leva Bates vs. Kimberly
Mercedes Martinez vs. Nikki Roxx
Allysin Kay, Taylor Made & April Hunter of Valkyrie vs. Mia Yim, Tracy Taylor & Su Yung
LuFisto vs. Ivelisse
Jessie Belle vs. Santana
Brittney Savage vs. Heidi Lovelace
Luscious Latasha vs. Tina San Antonio
Ticket Info:
VIP Stage - Includes a signed limited edition SHINE 7 poster autographed by the entire SHINE 7 Roster - $50
First Row Reserved - $30
GA - $15
PWInsider.com will have live, ongoing SHINE coverage this Friday.
If you enjoy PWInsider.com you can check out the AD-FREE PWInsider Elite section, which features exclusive audio updates, news, our critically acclaimed podcasts, interviews and more, right now for THREE DAYS free by clicking here!