FLORIDA'S FULL IMPACT PRO RELAUNCHES TONIGHT WITH FIRST iPPV
By
Mike Johnson
on 2013-02-01 08:54:03
Full Impact Pro returns to action tonight at The Orpheum in Ybor City, FL. The event, titled "Everything Burns," will be available live on iPPV and can be ordered by clicking this graphic and signing up for a WWNLive.com account: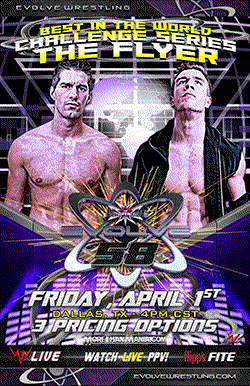 Scheduled for the return FIP card:
- Jon Davis vs. AR Fox for the vacant FIP World Championship.
- FIP World Tag Team Champions The Scene (Caleb Konley & Scott Reed) w/ MSL vs. Dos Ben Dejos (Eddie Cruz & Jay Rios).
- FIP Florida Heritage Champion Uhaa Nation vs. Chasyn Rance w/ MSL
- Francisco Ciatso vs. Derek Ryze
- Tommy Taylor vs. Johnny Vandal
- Maxwell Chicago vs. Mikaze
- John Skyler vs. Mike Cruz vs. Corey Hollis
If you enjoy PWInsider.com you can check out the AD-FREE PWInsider Elite section, which features exclusive audio updates, news, our critically acclaimed podcasts, interviews and more, right now for THREE DAYS free by clicking here!