FORMER WWE STAR CHALLENGING FOR DGUSA TITLE THIS AFTERNOON, HOW YOU CAN ORDER
By
Mike Johnson
on 2013-01-27 15:49:17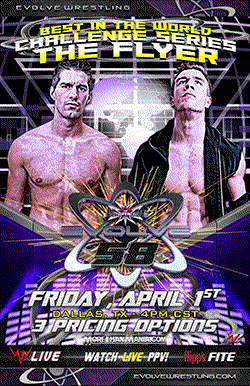 CLICK ABOVE TO ORDER TODAY'S DGUSA iPPV EVENT!
Dragon Gate USA will return to iPPV this afternoon at 4 PM Eastern with their final event of the weekend, headlined by former WWE star Brian Kendrick challenging DGUSA Open the Freedom Gate champion Johnny Gargano.
The announced lineup:
Sunday 1/27 (1 PM) in Huntington Park, CA:
*The Young Bucks vs. AR Fox & Akira Tozawa
*Sami Callihan vs. Jimmy Susumu
*Samuray Del Sol vs. Ryo Saito
*Chuck Taylor vs. EITA
*Drake Younger vs. Jon Davis.
For more on DGUSA, visit www.DGUSA.tv.
If you enjoy PWInsider.com you can check out the AD-FREE PWInsider Elite section, which features exclusive audio updates, news, our critically acclaimed podcasts, interviews and more, right now for THREE DAYS free by clicking here!