JOHN MORRISON-DRAGON GATE STORYLINE, JEFF PETERSON MEMORIAL CUP TONIGHT AND MORE
By
Mike Johnson
on 2012-12-14 13:10:24
The storyline leading to John Morrison's debut in Dragon Gate USA is that he has sent an open contract to Japan as he wants to test himself against top international talents. DGUSA should announce his opponent next week. As of now, it's a one time appearance.
The California tour will be:
1/25 in Santa Ana, CA at Lakeview Jr. High School
1/26 in Huntington Beach, CA at the The Pappy Pineda Dome
1/27 in Huntington Beach, CA at The Pappy Pineda Dome
Tickets are now on sale at www.DGUSA.tv. The promotion is also running a big holiday sale with DVDs marked down to 40% off, so given the level of work in the company, you can get some kickass wrestling at a great price.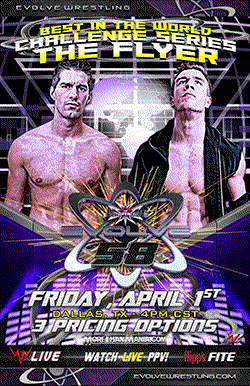 Order the Jeff Peterson Memorial Cup by clicking the graphic above, all iPPV money will be donated to charity.
The following press release was issued in support of the annual Jeff Peterson Memorial Cup this weekend, celebrating the life of the independent star, who passed away from cancer a decade ago. The gate and iPPV profits from the two night event will be donated to help a child who is also ill, so you can check out some great wrestling with strong independent names and help a good cause at the same time:
WWNLive.com presents

Friday, December 14, 2012 - 8 PM Bell Time
Saturday, December 15, 2012 - 6 PM Bell Time
The Orpheum
1915 E. 7th Avenue
Ybor City, FL

The tenth annual and final Jeff Peterson Memorial Cup.
The event was established to honor the memory of independent wrestler "All American" Jeff Peterson who died at age 21 after a two-year battle with leukemia.

It is a standard 16-man single-elimination tournament intended to showcase the top junior heavyweight wrestlers from independent promotions throughout the United States and Japan.

Many top independent wrestlers have participated in the event with former winners including Reckless Youth (2003), Justice (2004), Chris Sabin (2005), Milano Collection AT (2006), Chris Hero (2007), Erick Stevens (2008), Davey Richards (2009), Sami Callihan (2010) and AR Fox (2011)
12 Competitors already announced: AR Fox, Jonathan Gresham, Eddie Rios, John Silver

,

Lince Dorado, Mike Cruz, Maxwell Chicago, Shane Strickland, Tommy Taylor, Jay Cruz, Papadon and Samuray Del Sol!

All profits from the live gate and iPPV will be donated to the family of Nathan Dodds to help with his medical bills. Our friends at NWA FUW held a fundraiser for Nathan on October 2nd and raised over $5500. Let's see if we can match or hopefully beat that amount.
The ticket prices are as follows:
VIP Stage seating Night 1 - $50
VIP Stage Seating Night 2 - $50
VIP Stage Seating Both Nights - $75
First Row Ringside Night 1 - $30
First Row Ringside Night 2 - $30
First Row Ringside Nights 1 & 2 - $50
GA - Donation at the Door
Tickets will go on sale this Wednesday. Check back here for more info.
If you can't make it to The Orpheum on 12/14 & 15 you can watch it live on
www.WWNLive.com
!
Our you can send your donation via PayPal to
shop@wwnlive.com
If you enjoy PWInsider.com you can check out the AD-FREE PWInsider Elite section, which features exclusive audio updates, news, our critically acclaimed podcasts, interviews and more, right now for THREE DAYS free by clicking here!