EVOLVE 18 NEWS AND NOTES
By
Mike Johnson
on 2012-12-10 13:09:21
The EVOLVE 18 event from over the weekend, which was very good from top to bottom with no poor matches, is already online for immediate iPPV replays at the graphic below: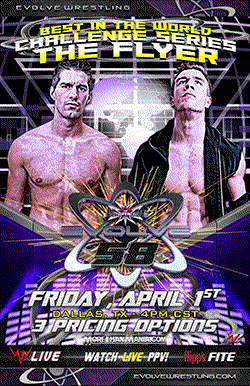 There were no injuries coming out of the show. Live, it was the strongest attendance for EVOLVE thus far in the Voorhees, NJ Flyers Skate Zone. The promotion was very happy with how both a Toys for Tots drive went as well as a local fundraising event that was done for a fan who's family had major damage to their home during Hurricane Sandy. The latter was able to raise over $2000.
The John Morrison angle is that he's coming in to test himself against a top Japanese talent, since he's never done that before. He's only set for the 1/25/13 event in Santa Ana, CA right now. The promotion is happy to have him as it's something fresh for them. The California events will go on sale later this week.
Here's a post-show "Book It Cam" with Sami Callihan, which features the start of his next storyline:
The Young Bucks are signed for all upcoming DGUSA and EVOLVE events going forward.
El Generico will be back in 2013 for the promotion.
If you enjoy PWInsider.com you can check out the AD-FREE PWInsider Elite section, which features exclusive audio updates, news, our critically acclaimed podcasts, interviews and more, right now for THREE DAYS free by clicking here!