JOHN MORRISON HEADING TO DRAGON GATE USA, EVOLVE 18 iPPV PREVIEWS
By
Mike Johnson
on 2012-12-07 12:37:37
Former WWE star John Morrison will be working Dragon Gate USA's debut in Santa Maria, CA next month. The promotion has teased it will release further details following tomorrow's EVOLVE 18 iPPV. Since departing WWE, Morrison has been very measured in where he wrestles as he mostly focuses on non-wrestling endeavors. EVOLVE has released a number of preview videos for tomorrow's iPPV event:
To order EVOLVE 18, click the graphic below: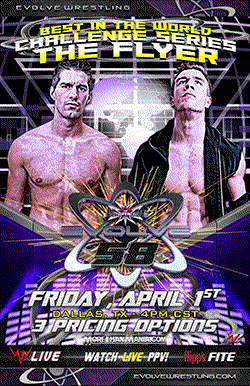 If you enjoy PWInsider.com you can check out the AD-FREE PWInsider Elite section, which features exclusive audio updates, news, our critically acclaimed podcasts, interviews and more, right now for THREE DAYS free by clicking here!