CABANA HEADING TO EVOLVE iPPV AND MORE NEWS
By
Mike Johnson
on 2012-12-07 09:04:52
Colt Cabana, still out of action due to the infection in his finger, will be providing commentary at tomorrow's EVOLVE 18 iPPV event in Voorhees, NJ.
The promotion announced that Christina Von Eerie will be at the event, although her role remains a mystery.
DGUSA is running a sale at www.DGUSA.tv featuring Get 40% off all DGUSA DVDs, 20% off all EVOLVE DVDs and 30% off all DGUSA/EVOLVE/Dragon Gate shirts, sweatshirts, hats and more.
To order EVOLVE 18, click the graphic below: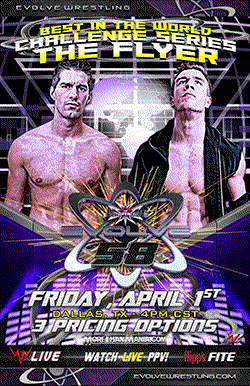 If you enjoy PWInsider.com you can check out the AD-FREE PWInsider Elite section, which features exclusive audio updates, news, our critically acclaimed podcasts, interviews and more, right now for THREE DAYS free by clicking here!