DETAILED EVOLVE 18 AND CZW CAGE OF DEATH 14 iPPV PREVIEWS, HOW YOU CAN ORDER
By
Mike Johnson
on 2012-12-08 11:00:00
EVOLVE and Combat Zone Wrestling will both return to iPPV this today from Voorhees, NJ via WWNLive.com. Each iPPV can be ordered by clicking the graphic below: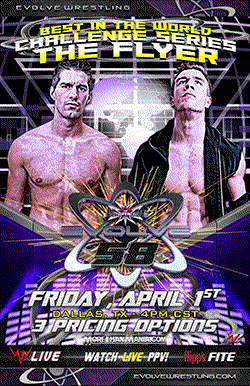 EVOLVE 18 at 4 PM will feature one of the stronger lineups for the promotion in recent months, topped by Sami Callihan, who has pieces together an incredible series of matches this year as well as received several WWE tryouts in Florida and TV Tapings, challenging DGUSA Open the Freedom Gate champion Johnny Gargano, who himself has had a banner year. For DGUSA, this is probably one of the most intriguing matches of the year.
EVOLVE 18 will also feature a tournament where the won/loss record will determine the top seeds for the EVOLVE championship tournament set for Wrestlecon in April 2013. The first round of the E18 tourney will feature Chuck Taylor vs. Jon Davis, AR Fox vs. Tony Nese, Jigsaw vs. Rich Swann and Masada vs. Papadon. The winners of those matches will then face off in a Four Way Freestyle match. The level of talent and differing styles of those in the tournament should make for a pretty compelling series of matches, while the Freestyle is usually a balls to the wall action packed bout featuring crazy bumps and highspots.
EVOLVE rounds out their card with what has to be seen as a dream tag match for independent wrestling fans are El Generico and Samuray Del Sol team to face The Super Smash Brothers.
For more on EVOLVE 18, visit www.DGUSA.tv.
***
The second show in the double header will be Combat Zone Wrestling's marquee event of the year, the 14th Annual Cage of Death. Every year, the promotion's Cage structure changes and sources indicate that glass will feature prominently into this year's contraption of decimation. The COD match will feature Matt Tremont, who has been built over the last few years as a tough, brawling babyface taking on heel owner DJ Hyde, who was forced to bring him back to the company after firing him just last month. The issues between the two have been building for over a year, so this will be a bloody, brutal showdown.
Underneath, there will be a lot more for fans of brawling and violence. Adam Cole vs. Sami Callihan in a No Holds Barred match is set, returning the former enemies back to the feud they once had over the company's Junior Heavyweight championship. Cole, who defeated Callihan to win the Best of the Best several years back, got into a pull apart brawl with him at the last CZW show. Cole's work over the last year has been supremely incredible and the only name on the indy scene who has built as much buzz, in my opinion, with their string of great bouts, is Callihan, so this will be a great showdown of top names from that scene.
CZW champion Masada, who has had his own trail of destruction with insane brawls and bumps and weapons, will defend against Drake Younger in another match that looks primed to provide blood and mayhem. 4-Loco vs. the Nation of Intoxication for the CZW Tag Team champions in what is being billed as Ultraviolent Insanity will obviously make Pat O'Connor and Lou Thesz sit up and take notice as well.
While CZW is built on a foundation of blood and violence, their actual wrestling is often overlooked as well. CZW Wired champion A R Fox has an Open Challenge out to anyone and will likely pull out some of the most insanely athletic high-flying seen since the glory days of RVD in ECW.
BLK OUT vs. Jake & Rich Crist looked to be another strong brawl with some good tag work. Rich Swann vs. Shane Strickland will be a showcase for some insanely high-paced fast wrestling and aerial work.
The most underrated comedy performer in the business, Greg Excellent will team with his mother (yes, really), continuing a series of appearances by Mama Excellent on major CZW shows (she was once piledriven by her own son) as they face Drew Gulak, the top heel here playing the anti-violence leader of a "Movement for a Better CZW" & Kimber Lee.
For more on CZW, visit www.CZWrestling.com.
***
There will be a bus trip to both events from NYC. For details, visit wrestlingbustrips.com.
Of course, you can order both via iPPV at this link below: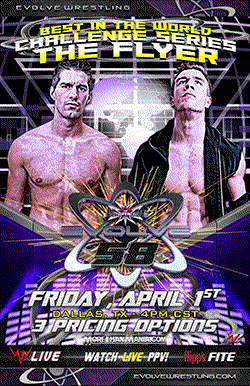 If you enjoy PWInsider.com you can check out the AD-FREE PWInsider Elite section, which features exclusive audio updates, news, our critically acclaimed podcasts, interviews and more, right now for THREE DAYS free by clicking here!