DRAGON GATE USA RETURNS TO LONG ISLAND, HOW YOU CAN ORDER FINAL iPPV OF THIS WEEKEND'S TRILOGY
By
Mike Johnson
on 2012-11-04 08:52:55
Dragon Gate USA closes out their iPPV trilogy tonight, returning to the NYWC Sportatorium in Long Island, NY. To order the show (which can be streamed on XBox360 and PS3 to your TV with the latest updates to those devices), click the graphic below: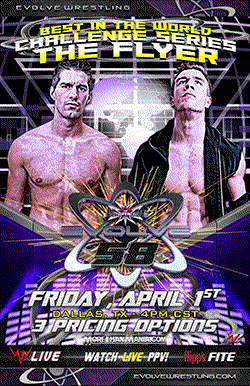 November 4th - Long Island, NY - 8pm EST - The PPV lineup features:
Open The Freedom Gate Title Match - Four Way Elimination
Johnny Gargano vs. Akira Tozawa vs. AR Fox vs. Ricochet
Tag Team Bonus Main Event
Genki Horiguchi & Ryo Saito vs. El Generico & Samuray Del Sol
First Time Ever Match
CIMA vs. Sami Callihan
Tag Team Challenge Match
Jigsaw & Fire Ant vs. The Super Smash Brothers
Special Attraction Match
Arik Cannon vs. ACH
Special Challenge Match
Jon Davis vs.EITA
Stipulation Fulfilled
-If Rich Swann Wins On Nov. 2nd It Will Be Swann vs. Taylor
-If Taylor Wins On Nov. 2nd He Will Get To Whip Swann
Bonus Dark Matches For The Live Crowd:
(Pre-Show At 7:30pm)
Match From Wrestlers In Seminar/Tryout
Matt Justice vs. Braydon Knight vs. Gary Jay
Nikki Addams vs. Rick Cataldo
(Post-Show After DGUSA Card)
Big O, John Silver & Alex Reynolds vs. Rex Lawless, Stockade & Apollyon
If you enjoy PWInsider.com you can check out the AD-FREE PWInsider Elite section, which features exclusive audio updates, news, our critically acclaimed podcasts, interviews and more, right now for THREE DAYS free by clicking here!