MORE NJ TOWNS OFFERED FREE DGUSA TICKETS TONIGHT, DGUSA iPPVS NOW AVAILABLE VIA PS3 and XBOX 360 AND MORE NEWS ON TONIGHT'S DGUSA iPPV
By
Mike Johnson
on 2012-11-03 16:52:36
Dragon Gate USA's event in Voorhees, NJ event tonight is offering any local residents from areas that were heavily hit by Hurricane Sandy will receive a free ticket to the show upon showing their driver's license to prove they are from those areas. The promotion will offer free tickets to anyone from the towns of Point Pleasant, Seaside Heights, Cape May, Wildwood and Somers Point when they enter the Flyers Skate Zone and show their driver's license or State Issued ID.
All WWNLive.com iPPVs going forward, including tonight's Dragon Gate USA iPPVs are now available to be streamed via your PS3 and XBox 360. As long as you have updated your systems with the latest available downloads, you will be able to watch the streams after going to WWNLive.com and logging in.
To sign up for a WWNLive.com account, click the graphic below: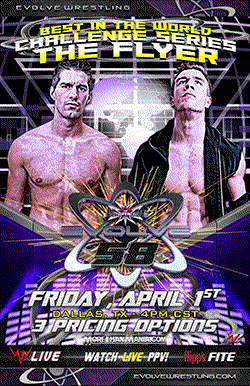 The lineup for tonight:
November 3rd - Voorhees, NJ - 8pm EST - Uprising 2012 - Live iPPV At WWNLive.com
Open The United Gate Title Match
CIMA & AR Fox defend vs. Horiguchi & Saito/Super Smash Brothers Nov. 2nd Winner
Bonus Tag Team Main Event
Ricochet & Rich Swann vs. Horiguchi & Saito/Super Smash Brothers Nov. 2nd Loser
2/3 Falls Match
El Generico vs. Sami Callihan
Special Challenge Match
Akira Tozawa vs. Samuray Del Sol
Tag Team Challenge Match
Arik Cannon & Pinkie Sanchez vs. Jigsaw & Fire Ant
Tag Team Attraction
Chuck Taylor, Drew Gulak & Orange Cassidy vs. Scott Reed, Caleb Konley & ???
Bonus Match For Live Crowd Only - Belltime 7:30pm
ACH vs. Soldier Ant
If you enjoy PWInsider.com you can check out the AD-FREE PWInsider Elite section, which features exclusive audio updates, news, our critically acclaimed podcasts, interviews and more, right now for THREE DAYS free by clicking here!