FAMILY WRESTLING ENTERTAINMENT DEBUTING ON iPPV NEXT WEEK WITH DREAMER VS. RHINO, LONDON, KENDRICK, BIG DADDY V AND MANY MORE, FULL DETAILS
By
Mike Johnson
on 2012-09-27 12:10:08
Jordan Schneider's Family Wrestling Entertainment, which has run events over the last year in New York City, will debut on iPPV on Friday 10/5 with a live event from St. Patrick's Gym in Brooklyn, NY. FWE will be partnering with WWNLive.com for the event.
Scheduled for the 10/5 iPPV:
*FWE champion Tommy Dreamer vs. Rhino
*Jay Lethal & Brian Kendrick & Paul London vs The Young Bucks & Petey Williams
*Velvet Sky & Angelina Love vs Maria Kanellis & Winter
*Unsanctioned Street Fight: FWE Tri-Borough Champion Damien Darling vs Johnny Knockout
*Big Daddy V vs Malta the Damager
*Colt Cabana vs Mike Bennett
*Open Challenge from Chris Masters to anyone on the FWE Roster
One Night Tag-Team Tournament featuring:
Sonjay Dutt/Daivari
Diamond Inc
Adrenaline Express
All Money is Legal
The iPPV will feature live commentary from Michael Schiavello, Maryse and Winter.
For more details, click the poster below to sign up for a WWNLive.com account: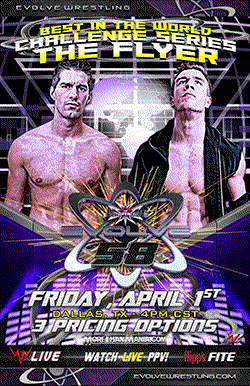 For more on FWE, viist www.FWEWrestling.com.
If you enjoy PWInsider.com you can check out the AD-FREE PWInsider Elite section, which features exclusive audio updates, news, our critically acclaimed podcasts, interviews and more, right now for THREE DAYS free by clicking here!