FIRST MATCHES SET FOR EVOLVE DOUBLE HEADER IN NJ, SHINE 2 MAIN EVENT SET AND MORE NEWS
By
Mike Johnson
on 2012-08-10 08:39:00
EVOLVE announced the first matches set for their double header on 9/8 in Voorhees, New Jersey with Combat Zone Wrestling at Flyers Skate Arena:
*Ricochet vs. AR Fox
*Super Smash Brothers & Rich Swann vs. Chuck Taylor, Drew Gulak & Orange Cassidy
*Also scheduled are Open The Freedom Gate Champion Johnny Gargano, Jon Davis, Sami Callihan, Samuray Del Sol, Jigsaw, Masada, Lince Dorado, The Scene, Cheech, Pinkie Sanchez, and Christina Von Eerie
DGUSA's sister promotion SHINE Wrestling will feature their second iPPV presentation on 8/17 in Ybor City, FL, headlined by Jazz vs. Mercedes Martinez.
Cloudy is done and has left the business.
Dragon Gate USA has a number of DVD releases in production for release over the next month. They are offering the Open the Golden Gate event from, California for free via iPPV if you have pre-ordered the DVD. Using code "YOU'RE WELCOME" during the checkout process will get $5 refund after checkout.
To order any of the DGUSA VOD replays or upcoming iPPVs from SHINE, EVOLVE and the rest of the DGUSA family, click the poster below: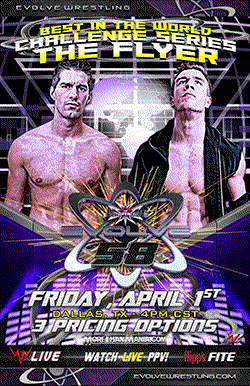 If you enjoy PWInsider.com you can check out the AD-FREE PWInsider Elite section, which features exclusive audio updates, news, our critically acclaimed podcasts, interviews and more, right now for THREE DAYS free by clicking here!