FEMALE FACTS: KARA SLICE
By Buck Woodward on 2004-11-09 14:05:00
Name:
Kara Slice
Debut:
January 1999
Companies worked for:
Jersey Championship Wrestling (JCW), Stars and Strips Championship Wrestling (SSCW), East Coast Professional Wrestling (ECPW), Northeast Wrestling (NEW), National Wrestling Superstars of New Jersey (NWS)
How did you get your start, who trained you?
I got started in wrestling when an old friend from work introduced me to her uncle who was a local independent promoter. We started to talk about wrestling and he asked me if I wanted to be involved with his next event. He then told me about a wrestling school in my area that I should check out which was ECPW out of Lake Hiawathia, New Jersey. I met Gina Caruso and have been training there ever since.
What was your first match or appearance, and how did you feel?
My first appearance was for IWF out of West Paterson New Jersey. I was brought in to feud with their leading female at the time, Bobcat. Steve Corino, Rik Ratchet, Donnie B, and Bobcat were the dominating force in the promotion and they had beaten up Kevin Knight who was the champ at one time. I came in to try and protect him from the beating but eventually they had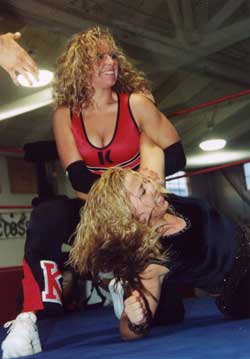 their hands on me. I was really nervous that day because I didn't know what to expect. Steve Corino and Nova were both working the show and talked me through the whole experience. Once the show was over, I was hooked. I didn't do much in the match but I knew I absolutely loved it and wanted to do more.
Who were some of your influences in the past, or who do you admire today?
My biggest influences in the past were Randy Savage, Miss Elizabeth and Ricky Steamboat. Today I really admire Victoria, Molly Holly, Ivory, Steven Regal, Christian, Chris Jericho.
What is the hardest part about being a woman in a male dominated business?
Being taken seriously. Most people look passed women's wrestling and don't take us seriously. We try our hardest to hold our own in a male dominated business and it's hard when people look passed us as only T n' A. If given the real chance, we can be just has exciting and entertaining as the male wrestlers. I train with other guys at ECPW and I've had my share of beatings.
What are your goals in wrestling?
First and foremost, to have fun. I'd be lying if I didn't say I wouldn't want to make a name for myself and get signed by WWE but as long as I'm having fun and proving that I can hang in this male dominated business, I'll be happy.
What was your most embarrassing moment in wrestling?
Julio and I were having a match with Jerry The King Lawler and The Kat. After the match, the Kat and I got into a little altercation. Julio pulled me from the ring and through me over his shoulder. As he's carrying me away, I didn't realize that when he through me over his shoulder, it pulled down the top of my dress, completely exposing my chest. In the excitement of it all, I didn't even realize it myself until I noticed all of the kids surrounded in front of us cheer really loudly. I thought that was a little weird and something made me look down and see myself exposed. I was so embarrassed.
What are you most proud of so far in your career?
That I've gotten the opportunity to work with some of the most greatest people/wrestlers in the business and made some sincere friendships with them.
What other female talents do you think highly of in the business?
Miss Elizabeth, Alexis Laree, April Hunter, Dawn Marie, Victoria, Cindy Rodgers, Alicia, Sumie Sakai, Little Jeanine, Bobcat, Alere Little Feather, Tara Charisma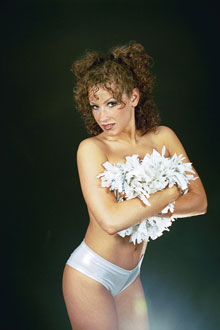 If you weren't in wrestling, what would you be doing today?
Something involved with animals or fitness.
Is there anything you would like to say to the fans reading this article?
I'd like to thank you for giving me an opportunity to entertain you and thank you for bringing an overwhelmingly great feeling each time I step through the curtain.

"Female Facts" is a monthly feature here on PWInsider.com. It will profile some of the female wrestlers and valets that are active on the Independent scene today. Past editions can be found in the "Special Features" section of the site. If you are a female wrestler or valet and would like to be featured in the section, you can email us by clicking here.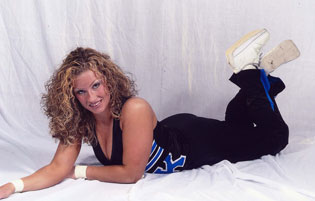 Past Editions of Female Facts:
February 2004 - April Hunter
March 2004 - Luscious Lilly
April 2004 - Ariel
May 2004 - Lady Victoria
June 2004 - Foxxy Dreams
July 2004 - Valentina
August 2004 - Talia
September 2004 - Jade
October 2004 - Krissy Vaine
If you enjoy PWInsider.com you can check out the AD-FREE PWInsider Elite section, which features exclusive audio updates, news, our critically acclaimed podcasts, interviews and more, right now for THREE DAYS free by clicking here!