FEMALE FACTS: KRISSY VAINE
By Buck Woodward on 2004-10-01 11:00:00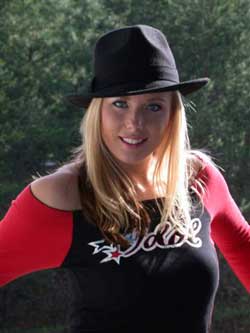 Name: Krissy Vaine
Website: www.krissyvaine.com
Debut: as manager 2001, as wrestler 2003
Companies worked for: CWF Mid-Atlantic (NC), NWA Wildside (GA), Georgia Championship Wrestling, CCW (NC), PGWA (NC,TN), ACW (NC), NWA- Bluegrass (KY), WWC (SC), Omega-Made (SC), NWA-Florida, WEW (FL), BWF (VA), Wrestling All-Stars (NC), HOPWF (MD, PA)

How did you get your start, who trained you?
Initially, I started out as a manager, Ken Spence trained me to be a manager. I stood alongside "Slick" Ric Converse for 2 years straight and still do today whenever I can. He's been my best friend and mentor for over 3 years. I received the majority of my wrestling training at CWF Mid-Atlantic. The head trainer there is Jeff Rudd. He is an excellent trainer. Jeff is the one who gives me the ideas for the submissions I break out in some of my matches. From time to time we have different people step in to share their knowledge with us. Another person I really learned a lot from is Murray Happer (aka Bo Dupp). He spent one of his summers working out with us and is a really great teacher!!!


What was your first match or appearance, and how did you feel?
Well my first appearance I was clueless, I knew nothing about the business and could barely understand the most simple spot. I was thrown ringside after a week of training. But that was cool, I learned as I went. I'm really happy that I had two years experience ringside before I actually began to wrestle. I feel like it gave me an edge. You really do learn a lot standing on the outside!!! My first singles wrestling match was amazing. It was so rewarding to wrestle in front of a live crowd after all the hard work I had put into my training. The match was actually decent and the crowd was into it. It was one of the most happy days of my life!!!! Amber O'Neal was my opponent and she carried me through with flying colors!!!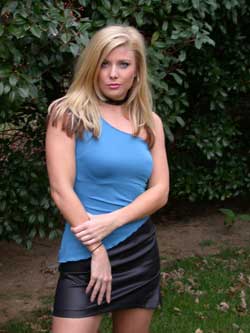 Who were some of your influences in the past, or who do you admire today?
Ric Flair is probably the person whom I most admire most. His longevity, his charisma, his persona, his work ethic and work rate combined. He seems so much bigger than life. People are drawn to him.... I think that's really cool. His love for the business is so huge--- he's just amazing I think. I also love Rick Steamboat--- his feud with Flair is my favorite feud of all time. I go back and watch tapes of them frequently to steal little things from them. They really created magic in the ring. Trish Stratus was a huge influence for me. I was a fan since her fitness model days. Watching her transform from ringside eye candy to accomplished wrestler was awesome. Molly Holly is incredible. I also liked to watch Stephanie McMahon for ideas on being obnoxious. I thought she was so funny and people really HATED her. She's great!!!!

What is the hardest part about being a woman in a male dominated business?
Getting past the "pretty girl" stigma... Everyone automatically thinks I'm horrible and they just assume I'm a manager. I thought it would be funny to incorporate the fact that I look really girly into my gimmick so I carry a mirror out with me and and sometimes I fix my make-up in the ring. If I stick my fingers in someone's nostrils and pull, when I remove my finger's I'll act completely grossed out and yell "ewwwwww" to all the fans.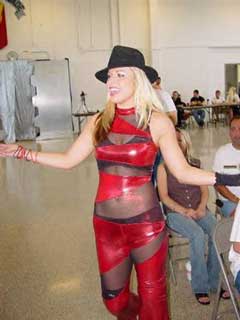 What are your goals in wrestling?
I just want to be successful and respected. I want to be the best I possibly can be and an asset to the business.

What was your most embarrassing moment in wrestling?
I don't really get embarrassed very easily. I had an outfit split open in the rear once, that was kind of funny, but not really embarrassing (I had shorts on underneath). I like to laugh at myself so normally I don't get embarrassed when I do something stupid. I get most embarrassed if I'm working and the crowd is silent. That has happened a time or two and it's the absolute worst feeling in the world. That's when I feel my cheeks start to burn and I can honestly say I'm embarrassed afterward. I HATE that...

What are you most proud of so far in your career?
What I have accomplished in the past year. I've wrestled a lot of places and I haven't been around for very long. I've been blessed to have been where I've been when I've been there. I have amazing people backing me and lots of support coming from different directions. I'm just so grateful for all that has been given to me since I started in this. Whether it's been advice from a veteran along the way or a workout session with someone who knows the biz inside and out ---I've truly been one lucky chick!!!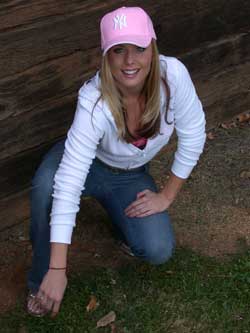 What other female talents do you think highly of in the business?
Trish, Molly, Stephanie, Moolah, Sherri

If you weren't in wrestling, what would you be doing today? Hairstylist *laughing* ( I'm a licensed cosmetologist). Honestly, I can't imagine life without wrestling--- I've been chasing this dream since I was barely out of high school. I will continue to be involved for as long as there is someone willing to let me perform.

Is there anything you would like to say to the fans reading this article?
Thanks for taking the time to read this!!!!

"Female Facts" is a monthly feature here on PWInsider.com. It will profile some of the female wrestlers and valets that are active on the Independent scene today. Past editions can be found in the "Special Features" section of the site. If you are a female wrestler or valet and would like to be featured in the section, you can email us by clicking here.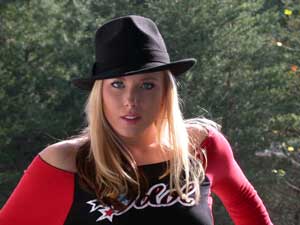 February 2004 - April Hunter
March 2004 - Luscious Lilly
April 2004 - Ariel
May 2004 - Lady Victoria
June 2004 - Foxxy Dreams
July 2004 - Valentina
August 2004 - Talia
September 2004 - Jade
If you enjoy PWInsider.com you can check out the AD-FREE PWInsider Elite section, which features exclusive audio updates, news, our critically acclaimed podcasts, interviews and more, right now for THREE DAYS free by clicking here!