FEMALE FACTS: VALENTINA
By Buck Woodward on 2004-07-02 09:30:00
FEMALE FACTS
Name: Valentina
Website: www.myvalentina.com
Debut: 2000
Companies worked for: LIWF, UPW, WXW, XPW, NWA-TNA, Rev X, PWG, and many others.
1. How did you get your start, who trained you?
I really got my start when I joined the LIWF Doghouse school in Brooklyn, NY. Homicide trained me about 5 days a week, and was an amazing trainer.
2. What was your first match or appearance, and how did you feel?
My first appearance was as a valet for Jimmy Snuka. I got that booking after talking to Johnny Rodz about possibly joining his school, which I never ended up doing.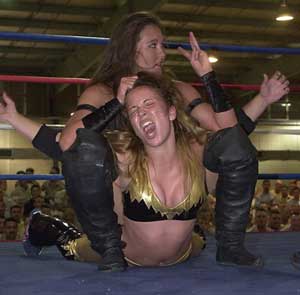 3. Who were some of your influences in the past, or who do you admire today?
I was always a big fan of Sunny, because she had it all. The looks, the talent, the charisma. I thought she was awesome. I also admire Trish Stratus because she has come a long way from when she first started, and I feel she is a positive role model to younger females.
4. What is the hardest part about being a woman in a male dominated business?
Well, a lot of people don't take women's wrestling seriously, and feel women should always be "eye candy," so it's like women always have something to prove going into a show and can never let their guard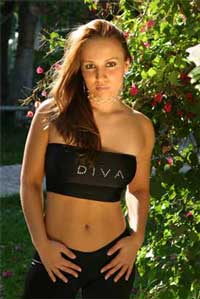 down.

5. What are your goals in wrestling?
To be the WWE women's champion.
6. What was your most embarrassing moment in wrestling?
I really haven't had anything that embarrassing happen to me. Maybe a little trip on the way to the ring, but that's about it.
7. What are you most proud of so far in your career?
Traveling overseas and to Alaska to perform for the troops. It was an amazing experience. I am also proud of being on a national PPV at the young age of 19.
8. What other female talents do you think highly of in the business?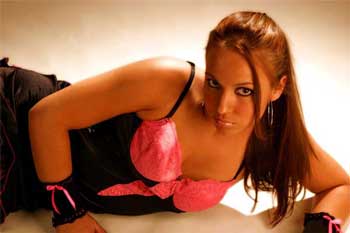 In the WWE- Trish Stratus, Victoria, Molly Holly, and signed to developmental deals, Melina Perez and Alexis Laree. On the indy circuit- April Hunter, Morgan, and although I haven't had the chance to wrestle her, Phoenix.
9. If you weren't in wrestling, what would you be doing today?
I really can't imagine not being in this business, but I guess I would try modeling full time, or be a personal trainer, something like that.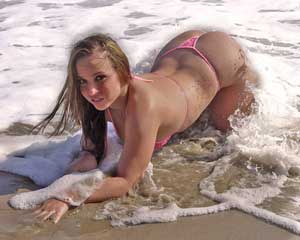 10. Is there anything you would like to say to the fans reading this article?
I really LOVE and appreciate all my fans. I think you guys are awesome, and you make everything that we do worth while.
For more on Valentina, visit www.myvalentina.com.
More pictures of Valentina can be found at www.Varietease.com.
"Female Facts" is a monthly feature here on PWInsider.com. It will profile some of the female wrestlers and valets that are active on the Independent scene today. Past editions can be found in the "Special Features" section of the site. If you are a female wrestler or valet and would like to be featured in the section, you can email us by clicking here.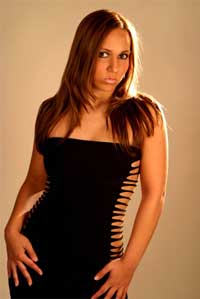 Past editions of Female Facts:
February 2004 - April Hunter
March 2004 - Luscious Lilly
April 2004 - Ariel
May 2004 - Lady Victoria
June 2004 - Foxxy Dreams
If you enjoy PWInsider.com you can check out the AD-FREE PWInsider Elite section, which features exclusive audio updates, news, our critically acclaimed podcasts, interviews and more, right now for THREE DAYS free by clicking here!