CM PUNK RESPONDS TO REPORT HE DIDN'T WILLINGLY RETURN TO RING VS. JON MOXLEY LAST YEAR BEFORE DELETING RESPONSE
By
Mike Johnson
on 2023-03-23 20:38:00
CM Punk responded to a report that he was refusing to return to the ring a year ago and wrestle then-AEW Interim Champion Jon Moxley via Instagram before deleting the story.
Punk appeared to be responding to comments made by Dave Meltzer of The Wrestling Observer made on Meltzer's website forum where Meltzer stated, "Do you know why they didn't advertise Punk vs. Moxley longer and why it had a short build? Because Punk agreed to it, then AEW got a legal letter saying he wasn't down with it and wasn't doing it and they didn't know if he'd come until Tony put his foot down. There are a lot of nice things I can say abot him, and you can absolutely argue his position on Moxley was correct, but you can't argue he willing did what he was asked in that scenario."
Punk later posted and deleted the following statement on his Instagram Stories: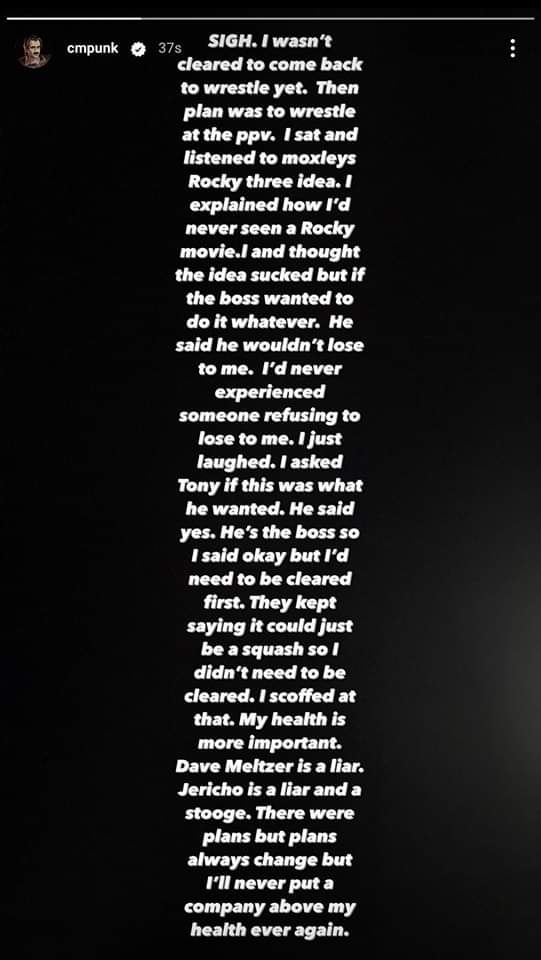 The time period in question appears to be the same time period where Moxley was in between AEW deals, although there's no word whether that may have been a factor.
Punk was not cleared at the time due to severely injuring his foot, which he later described as having "pulverised" his bones during a six man tag team bout at the Los Angeles debut of Dynamite. Punk was obviously cleared in time to return to quickly lose to Jon Moxley before rematching at the 2022 All Out PPV and regaining the title in the match where Punk tore his triceps.
Punk deleted the IG Story (although nearly a dozen PWInsider readers and Elite subscribers sent along that they had seen it), later posting a photo of Lethal Weapon character Roger Murtaugh, stating his catchphrase, "I'm too old for this sh**."
Punk has not wrestled for AEW since All Out 2022, where he won the AEW title from Moxley before AEW's trajectory changed forever after that event's post-show media scrum and post-scrum brawl backstage. To the best of our knowledge, Punk remains under contract to the promotion.
If you enjoy PWInsider.com you can check out the AD-FREE PWInsider Elite section, which features exclusive audio updates, news, our critically acclaimed podcasts, interviews and more by clicking here!