WWE NXT, RINGSIDEFEST, VLADIMIR KOZLOV & MORE WWE NEWS AND NOTES
By
Mike Johnson
on 2016-09-23 14:07:00
For those who have asked, Lince Dorado is also signed to a WWE deal. He'll be working NXT and Cruiserweight division matches for the main roster.
The WWE Network has added more episodes of ECW circa 1993 as well as Monday Night Raw from 2008 and 2008. Thanks to Jared Cheeseman.
Set for next week's episode of WWE NXT:
*Tye Dillinger vs. Angelo Dawkins.
*The Revival vs. Gabriel and Uriel Ealy.
*Ember Moon vs. Mandy Rose.
*The Authors of Pain in action.
*WWE NXT Women's champion Asuka vs. Liv Morgan in about a minute.
*Hideo Itami vs. Lince Dorado.
Our friends at Ringside Collectibles announced the following: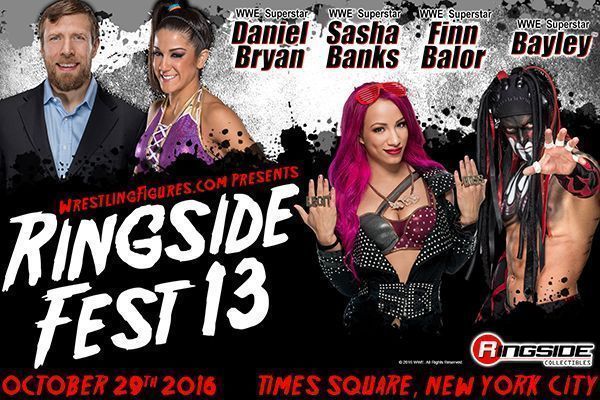 WWE® Superstars Finn Balor®, Sasha Banks™, Bayley™, and Daniel Bryan® Take Over NYC!
NEW YORK, NY – RINGSIDE COLLECTIBLES, INC. presents the 13th annual RINGSIDE FEST scheduled for Saturday, October 29th at Carolines on Broadway in Times Square, New York City.
This blockbuster event includes appearances by:
WWE® Superstars Daniel Bryan® & Bayley™(appearing 9am-12pm)
WWE® Superstars Finn Balor® & Sasha Banks™ (appearing 1-4pm)
Tickets are required for autograph and photo opportunities. Availability is very limited.
To order tickets and for more details visit http://www.RingsideFest.com!
This is your first opportunity to get the Ringside Collectibles Exclusive Mattel WWE® Elite Flashback NWO Wolfpac Sting figure that will be available for sale starting at Ringside Fest!
Mattel's design team will also be on hand with the latest WWE® Action Figures on display and answering questions from fans!
Ringside Collectibles, Inc. is the #1 on-line retailer of Mattel WWE wrestling figures! Visit Ringside Collectibles at http://www.WrestlingFigures.com
WWE released the first episode of "Where are they now?" -
If you enjoy PWInsider.com you can check out the AD-FREE PWInsider Elite section, which features exclusive audio updates, news, our critically acclaimed podcasts, interviews and more by clicking here!