FWE RETURNING TO iPPV TONIGHT: DREAMER VS. CARLITO VS. HARDY TLC MATCH AND MORE, FULL COVERAGE ON PWINSIDER - HOW YOU CAN ORDER SHOW & SEE FREE LIVE PRE-GAME SHOW ONLINE
By
Mike Johnson
on 2013-02-16 11:15:00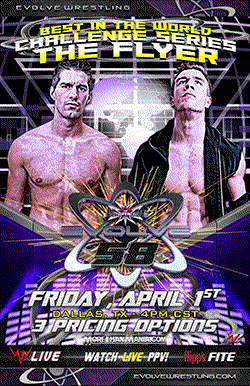 CLICK HERE TO ORDER FREE PRE-GAME SHOW AND MORE
Family Wrestling Entertainment will return to iPPV tonight from Bay Ridge, Brooklyn at St. Patrick's Gym. PWInsider.com will have complete ongoing coverage from the show, which will feature a FREE pre-game show featuring several matches that can be ordered right now by clicking here and signing up for a WWNLive.com account, then clicking FWE.
The free show will feature Carlito's Cabana featuring Matt Hardy, Brian Kendrick vs. Paul London for a shot at the FWE Tri-Borough title on the iPPV and a Tag Team Gauntlet featuring Young Bucks vs. All Money is Legal vs. Diamond Inc vs. Azrieal & Bandido vs. Midnight Sensations for a shot at the FWE Tag titles during the iPPV. The free show is free as long as you sign up for a WWNLive.com account and then click order for the free show.
The iPPV will feature the pro wrestling event debut of viral sensation Stone Cold E.T."

Stone Cold E.T. on iPPV this Saturday!
The iPPV, which you can also order by clicking here, will feature:
*FWE champion Carlito vs. Tommy Dreamer vs. Matt Hardy - TLC Match.
*FWE Tri-State champion Damien Darling vs. Paul London OR Brian Kendrick.
*FWE Women's champion Maria Kanellis vs. Angel (Angelina Love) Williams.
*Adrenaline Express vs. Gauntlet Winners.
*Reby Sky vs. Ivelisse Velez
*Jorge Santi & Matt Taven (With Kasey Ray) vs. Chris Mordetsky & Mike Bennett
*James Yun (fka Jimmy Wang Yang) vs. Sonjay Dutt.
*Wes Draven vs. Petey Williams vs. Tony Nese vs. Jigsaw
For more on FWE, visit www.FWEWrestling.com.
If you enjoy PWInsider.com you can check out the AD-FREE PWInsider Elite section, which features exclusive audio updates, news, our critically acclaimed podcasts, interviews and more, right now for THREE DAYS free by clicking here!